adsk
Friday, July 3, 2015 at 7:00AM
The world under the surface is vast, deep and mysterious. It speaks to our imaginations - sometimes it's presented as calm and tranquil, sometimes nightmarish and terrifying, sometimes vibrant and colorful, sometimes surreal and dream-like. What is your interpretation of the deep blue?

For this challenge, explore the idea of a world under water. What kind of creatures live there? Is it beautiful, dangerous, or both?

- Lois Van Baarle aka Loish

How do you participate in the Hero Challenge? Just follow these steps:
Click to enlarge.
Download this, rise to the challenge, and draw in SketchBook!
Sign up for DeviantArt, if you're not already a member! All the fun is happening there.
Join the official Autodesk SketchBook group.
Download the prompt and draw your image (left) . This month the challenge is to conveying motion in a still image.
Draw your original artwork on the canvas using Autodesk SketchBook.
Add your entry to the DeviantArt Autodesk SketchBook group!
At the end of July, Lois will pick the pieces that met the challenge the best, and give feedback on why they hit the mark. We'll feature that art right here for everyone to see!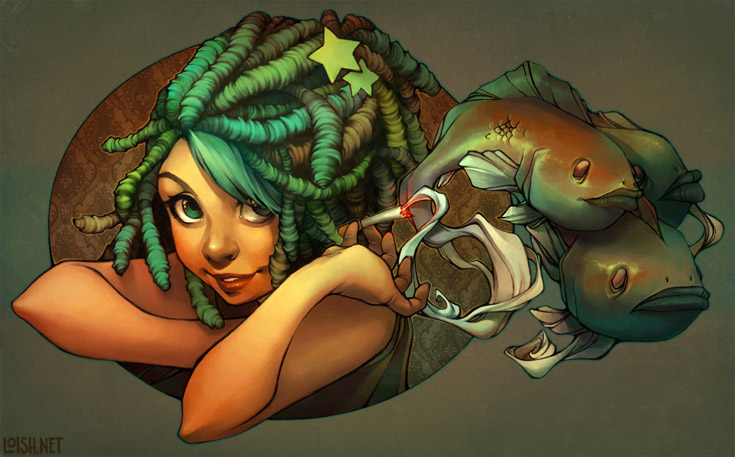 About the artist:
"I've been drawing since the day I could hold a pencil, and started teaching myself to draw digitally in 2003. I studied animation at the Utrecht School of the Arts and, upon graduating, started working as a freelance illustrator and animator, although I primarily think of myself as a digital artist.
I've always had a weak spot for mermaids, sea creatures, underwater settings and the dream-like floating effect that underwater imagery gives. It's a theme that I always return to in some way or other through the years!" - Lois